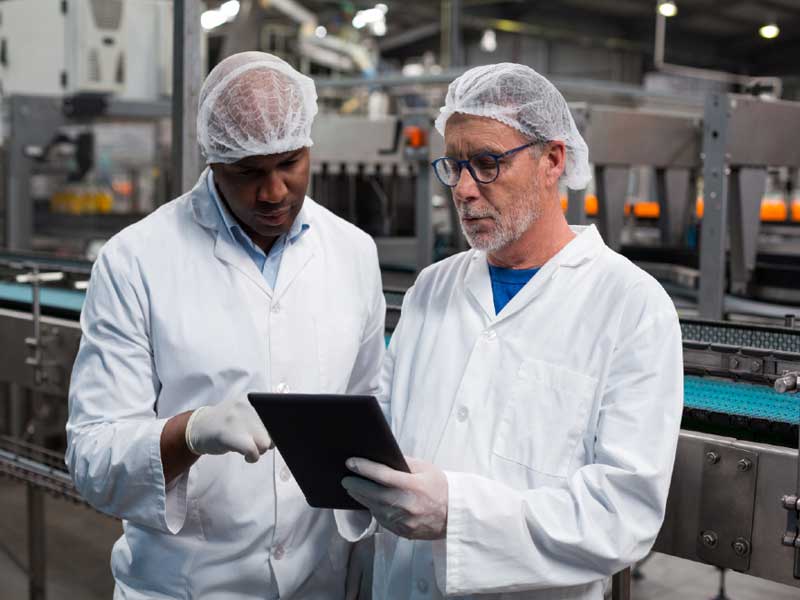 AL-FLEX stands ready as one of the leading providers of Food Handling Pest Control in Miami, FL We provide tailored solutions designed specifically for the challenges faced by food handling facilities. Our expertise ensures that pests are effectively controlled, preserving the safety and quality of your food products. By partnering with us and implementing routine inspections, treatments, and employee training, you can rest assured your facility will remain pest-free.
We are licensed by the United States Department of Agriculture (USDA) and work closely with them to protect America's agriculture. If the government trusts us, then so should you.
For Food Handling Pest Control in Miami, FL, our focus is on proactive pest management that ensures your facility is consistently prepared for audits. AL-FLEX implements a self-audit system, so we make sure we cover all the bases and check all the necessary points to keep you always ready. This ensures you are always prepared to pass any audit with excellence. In addition, you can count on our support on the day of your audit.
Expert Knowledge in Food Handling Pest Control in Miami, FL: Our team possesses extensive knowledge of pests, their behaviours, and nesting habits, guaranteeing precise and effective pest control solutions tailored to your specific requirements.
Thorough Inspections for Food Facilities: As a crucial aspect of Food Handling Pest Control in Miami, FL, our experienced team conducts comprehensive property inspections. This process helps us identify pest hotspots, entry points, and other critical areas, forming the foundation of an audit-ready facility.
Customized Treatment Plans: Acknowledging the uniqueness of each facility, we steer clear of one-size-fits-all approaches. Our treatment plans are fully customized to meet your exact requirements, employing proven methods like monitoring stations, fly lights, and baiting, and preventive applications
Prevention and Maintenance: Our commitment is 100% customer satisfaction. We provide continuous support and guidance, assisting you in implementing preventative measures, maintenance plans, and recommendations that contribute to an audit-ready environment.
Our Guarantee
100% Customer Satisfaction
Unlimited callbacks with annual agreements
Treatments included:
Fruit Flies | House Flies | Roaches | Rodent | Shore Flies | Mosquitoes | Bird Abatement | Bed Bugs | Ants | Exclusion Services | Floor & Drain Cleaning | Termite Treatments
Response Guarantee – We will respond to your request immediately 24/7 through our answering customer service and if needed have someone on-site at your facility within 2-24 hours – guaranteed.
Satisfaction Guarantee – If an infestation of any of the target pests covered in the agreement is reported, AL-FLEX will control it within 72 hours from the time it was reported. If AL-FLEX fails to control such infestation within said period. AL-FLEX will waive the entire service charge for that particular month.
Choose AL-FLEX for Food Handling Pest Control in Miami, FL, and ensure your food processing establishment is fortified against pest-related threats while maintaining audit readiness. Whether you're addressing existing issues or proactively preparing for audits, our dedicated team is here to provide specialized Food Handling Pest Control in Miami, FL.
Commercial Pest Control Services
LOOKING FOR HONEST AND RELIABLE SERVICES?
Ask About Our 100% Money Back Guarantee
Make An Appointment Today With Our Online Form
CONTACT US
WHAT OUR CUSTOMERS ARE SAYING ABOUT US:
This company is the best! Great products, great team, always remind me 1 day before coming. Always communicative to see what how they can serve my needs the best way. Great pricing, thank you Al-flex.
Thank you Al-flex for your amazing services! I am very happy with the job done for termites in my home and cockroaches, your office staff was very helpful and my sales person was very professional and made me feel comfortable.
I highly recommend Al-Exterminators. I had small ants in the kitchen, breakfast area and my sons room and all ants were gone by the evening. It's been 2 weeks and no ants has shown up in the house. Our exterminator, Domingo, was a great help. Domingo not only inspected inside but also inspected outside. Thank you Al-Flex!
Any time I need al-flex to come to my house they are there on time and do a great job. Nia always makes sure my concerns are addressed will definitely being using again if needed thank you Al-flex.
Vanessa is the best so nice and friendly. I had a bad day ,but she made it better. They need to hire more people with her attitude and attention for clients.
I cannot express how grateful I am for the incredible service provided by AL-Flex Exterminators. From the moment I made contact with Adrian, their salesperson, I knew that I was in good hands. Adrian went above and beyond to educate me.
They are professional punctual and they take care of any inquiry you may have. Valerie was the best. She helped me and answered all my questions throughly. I definitely recommend them!
Excellent service and very professionals, totally recommended! Thank you Mario!
Ive been using al flex for all my termite needs, they are always on time and Nia calls 1 day before the tenting date. very pleased with their services & 1 year warranty.
Al-Flex is a great and reliable company to use for termite services or any other pest issue you might have. I highly recommend them. The office staff is attentive and friendly. I'm very pleased and satisfied with the services, I've received in the past.
These guys are the biggest and Best in the business. They have the equipment and crews to get your job done with expert results. All other companies want to be like Al-flex when they grow up.
Exceptional service. On time and with awesome results I'm very happy Miss Vanessa Perez' explained everything to me thoroughly and it was really appreciated... awesome job. Recommend!!!!!
Price quoted for treatment was very reasonable compared to prior quotes. Nia was professional over the phone and i got a call within 24 hours for a quote. The inspector was very thorough with the process of tenting of my house and i was back home in the morning on the third day.
I had the pleasure of working with Valerie R, she made sure I had a very positive experience from the moment that I spoke with her to schedule an inspection, and throughout my service. Valerie answered all my questions and kept me updated every step of the way. I would recommend Al Flex Exterminators!! Thank you all for everything.
I want to say thank you for the level of professionalism and hope your guys achieved. After purchasing these two homes that have been vacant for about 2-3 years I was truly unprepared for what I would walk into.
I would recommend Al-flex because they are are super fast I needed to tent my house last min before renting my property and they made it happened! Other companies said 3 weeks. Valerie R. gave me great service. Thank you.
This is a very serious, professional, informative company to trust for your home and/or business. Staff is very profesional and help you understand your need, especially the manager, Clara, she was very helpful. Clara will guide you.
I just bought my first new home and the pervious owners been customers of Al-Flex for years. So happy its transferable. Now that speaks value of a company!